Monthly Digest Shuaa Digest December 2018 is now available in markets. For those who love to read Shuaa Digest and regularly reading novels and stories from Shuaa. Now Go to your nearest bookstore and get the copy of Shuaa Digest December 2018. Read Online Shuaa Digest December 2018 Now exclusively at Caretofun Reading Portal. CaretoFUN is your platform to read online latest digests and episodic novels. All monthly famous novels and digests are readable here. We are happy to announce that Shuaa Digest November Edition is available on this very page with high definition images.
Shuaa Digest December 2018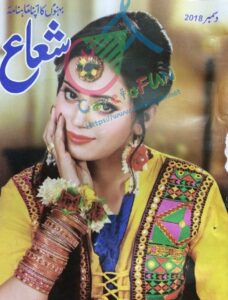 Now we made it easy to get online latest monthly digests pdf copy that is readable on our page. Also, downloadable files for your devices, read online and download a pdf copy to share with anyone anywhere. We have made it available for online readers in PDF format exclusively in a small size that everyone can grab easily. A complete novel with all pages will be uploaded shortly. Also, Get your copy and download  Shua Digest December 2018 by Mehmood Riaz.
شعاع ڈائجسٹ دسمبر 2018
Finally, Monthly digest uploaded every month in the starting date for those who are living abroad and those who cannot access the physical copy of digest. Furthermore, Shuaa Digest here is for such readers.
We regularly upload episodic novels and monthly update the latest digest for reading online and PDF. Also read Urdu Books Online from our website, Magazines, Social Books, Poetry books. Also, Educational books, and informative material etc.
Shuaa Digest December 2018 Contains: 
Is Baras Rehnay Do
Karii Dhoop
Phool Mandi
Aaena Khanay Main
Beri aur Zanjeer
Shuaa Digest December 2018 download
Shuaa Digest December 2018 is published in the market and available for download. Also you can Download the favorite digest Monthly Shuaa Digest December 2018. Also Read Monthly Urdu Digests Read Online and download.
Get your link of here in below section Shuaa Digest December 2018 :